Ensuring a Sustainable Future for the South-Eastern European TCLF industries

Social dialogue project of industriAll Europe together with Euratex, CEC, Cotance
This project will focus on the textile, clothing, leather and footwear (TCLF) industries in five Southeast European countries: Bulgaria, Croatia, North Macedonia, Romania and Serbia.
The TCLF industries employ over 400,000 workers in these countries. However, the lack of strong sectoral industrial policies and government support, low wages, weak social dialogue structures and lacking collective bargaining are hampering growth opportunities, competitiveness, and sustainable industrial and social development.
industriAll Europe is carrying out the project with three industry associations, European Apparel and Textile Confederation (EURATEX), European Footwear Confederation (CEC), and the European Association of Tanners and Dressers (COTANCE).
The expected outcomes of the project are the following:
Enhance the representativeness of employer associations and trade unions by increasing their membership and consolidating their structures
Develop the skills and capacity of the social partners and their members on industrial strategies, social dialogue and collective bargaining
Develop and implement strategies for industrial development and social progress
Open the path towards improved social dialogue and collective agreements, including industry-level bargaining and multi-employer agreements
The 2-year project supported by the European Union will run from 2021 to 2023 in the form of research, national workshops, follow-up and coaching and an international conference.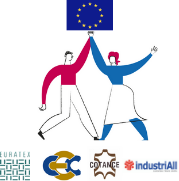 Other documents:
---
Others materials will follow as the project is developing…
News
---
Towards sustainable TCLF industries in Serbia
(22.12.2022)
Serbian textile, clothing, leather and footwear (TCLF) industries employ 60,000 workers in the home textiles, fashion and automotive supply chains. As an EU candidate country and a major exporter to the European markets, the sector will be deeply impacted by the European Union's goals to transform the textile ecosystem to be sustainable, circular and competitive in the global perspective.
read more
---
Ensuring sustainable and competitive TCLF industries in Romania
(28.10.2022)
As part of an ongoing EU social dialogue project, social partners met on 25-26 October in Bucharest to discuss how to meet the future challenges set out in the EU Sustainable Textiles Strategy. They concluded that change is coming and that urgent action is needed to keep the industries competitive in Romania and their workers in work.
read more
---
Seizing growth opportunities in Bulgarian TCLF industries
(19.9.2022)
Social partners in the Bulgarian textile, clothing, leather and footwear industries meeting at a national workshop on 13-14 September in Sofia concluded that investment in technology and people is a key to success.
read more
---
Joint action in Croatia's textile industry
(14.6.2022)
The textile and garment industry in Croatia has dropped 20 per cent in the last five years. In a workshop hosted by the Chamber of Economy in Zagreb on 8-9 June, participants from the government, employers and unions agreed that cooperation is key to securing a competitive and sustainable textile industry with a qualified workforce and decent working conditions in the country.
read more
---
Development of TCLF industries in North Macedonia
(12.05.2022)
Employers, trade unions and government representatives met in Skopje on 10-11 May to discuss how to jointly develop the textile, clothing, leather and footwear (TCLF) industry in North Macedonia.
read more
---
TCLF sectors in Portugal: a success story built on social dialogue, innovation and sustainability
(28.9.2021)
European social partners of the textile, clothing, leather and footwear (TCLF) sectors met to examine and discuss the factors that have led to the revival of the Portuguese TCLF industries. A stable social dialogue, a long-term strategy backed by all stakeholders, with government support, have ensured the transition of the Portuguese TCLF sectors into a sustainable, competitive industry with decent wages, stable and healthy workplaces.
read more