POSTPONED - COVID-19

---
Postponing industriAll Europe congress 26-28/05/2020
Dear colleagues,
As the COVID-19 virus is spreading further in Europe and globally, we are faced with unprecedent consequences for workers and their families. Countries go in lockdown, companies are closing, workers face serious consequences on their jobs and income. industriAll Europe is working on all these developments and will update you with information and agreements that are currently negotiated at sector and company level.
Today, (17.3.2020) the industriAll Europe President and Vice-Presidents held a conference call, and discussed as well the consequences for our planned congress from 26 to 28 May 2020 in Thessaloniki. The decision is that the congress must be postponed as we will not be able to give 100 % certainty on safe and healthy conditions to participate to the 650-700 congress delegates, observers and guests.
We deeply regret this position, but there was no other decision possible. We will get in touch with the suppliers in Thessaloniki, as well as with the hotels, and do our upmost best to reduce the costs of this postponement to a minimum.
We will keep you informed about next steps.
Best regards,
Luc
---
Report du Congrès d'industriAll Europe 26-28/05/2020
Chers Collègues,
Avec la propagation du virus COVID-19 en Europe et dans le monde, nous sommes confrontés à des conséquences sans précédent pour les travailleurs et leurs familles. Des pays ont pris des mesures de confinement, des entreprises ferment, les emplois et revenus des travailleurs sont gravement impactés. IndustriAll Europe travaille sur tous ces développements et vous tiendra informés de la situation et des accords qui sont actuellement négociés au niveau des secteurs et des entreprises.
Aujourd'hui, (17.3.2020) le Président et les vice-présidents d'industriAll Europe ont eu une conférence téléphonique pour discuter aussi des conséquences sur notre Congrès prévu du 26 au 28 mai 2020 à Thessalonique. Il a été décidé que le Congrès devait être reporté puisque nous ne sommes pas en mesure de garantir à 100% la sécurité et la santé des 650-700 délégués, observateurs et invités.
Nous regrettons profondément cette position, mais c'était la seule décision envisageable. Nous contacterons les différents prestataires de service à Thessalonique ainsi que les hôtels, et nous ferons notre possible pour réduire les coûts de ce report à un minimum.
Nous vous tiendrons informés des prochaines étapes.
Meilleures salutations,
Luc
---
Verschiebung des Kongresses 26.-28.05.2020
Liebe Kolleginnen und Kollegen,
da sich das COVID-19-Virus in Europa und weltweit immer weiter ausbreitet, sind wir mit beispiellosen Folgen für die Arbeitnehmer*innen und ihre Familien konfrontiert. Länder werden abgeriegelt (Lockdown), Unternehmen schließen, Arbeitnehmer*innen befürchten ernsthafte Folgen für ihre Arbeitsplätze und ihr Einkommen. IndustriAll Europe verfolgt all diese Entwicklungen und wird euch auch über Vereinbarungen informieren, die derzeit auf Branchen- und Unternehmensebene ausgehandelt werden.
Heute (17.3.2020) haben der Präsident, die Vizepräsidenten und ich per Telefonkonferenz über die Konsequenzen für unseren vom 26. bis 28. Mai 2020 in Thessaloniki geplanten Kongress diskutiert. Entschieden wurde, dass der Kongress verschoben werden muss, da wir den 650-700 Kongressdelegierten, Beobachtern und Gästen keine 100 %ige Sicherheit für ihre Gesundheit garantieren können.
Da nicht vorhersehbar ist, wie sich die Situation in der zweiten Jahreshälft entwickelt und im Oktober 2020 der Kongress von IndustriALL Global Union stattfinden wird, bestand Einigkeit darüber, dass wir unseren Kongress auf das Frühjahr 2021 verschieben sollten. Einige "Kongressabstimmungen/ Wahlen" werden jedoch im Mai 2020 per "Fernabstimmung " erfolgen. Wir werden euch so bald wie möglich darüber informieren.
Wir bedauern diese Entscheidung zutiefst, aber es war keine andere Entscheidung möglich. Wir werden uns mit den Verantwortlichen in Thessaloniki sowie mit den Hotels in Verbindung setzen und unser Bestes tun, um die Kosten dieser Verschiebung auf ein Minimum zu reduzieren.
Wir werden euch über die nächsten Schritte auf dem Laufenden halten.
Freundliche Grüsse,
Luc Triangle
---
POSTPONED to 2021 - more info asap
---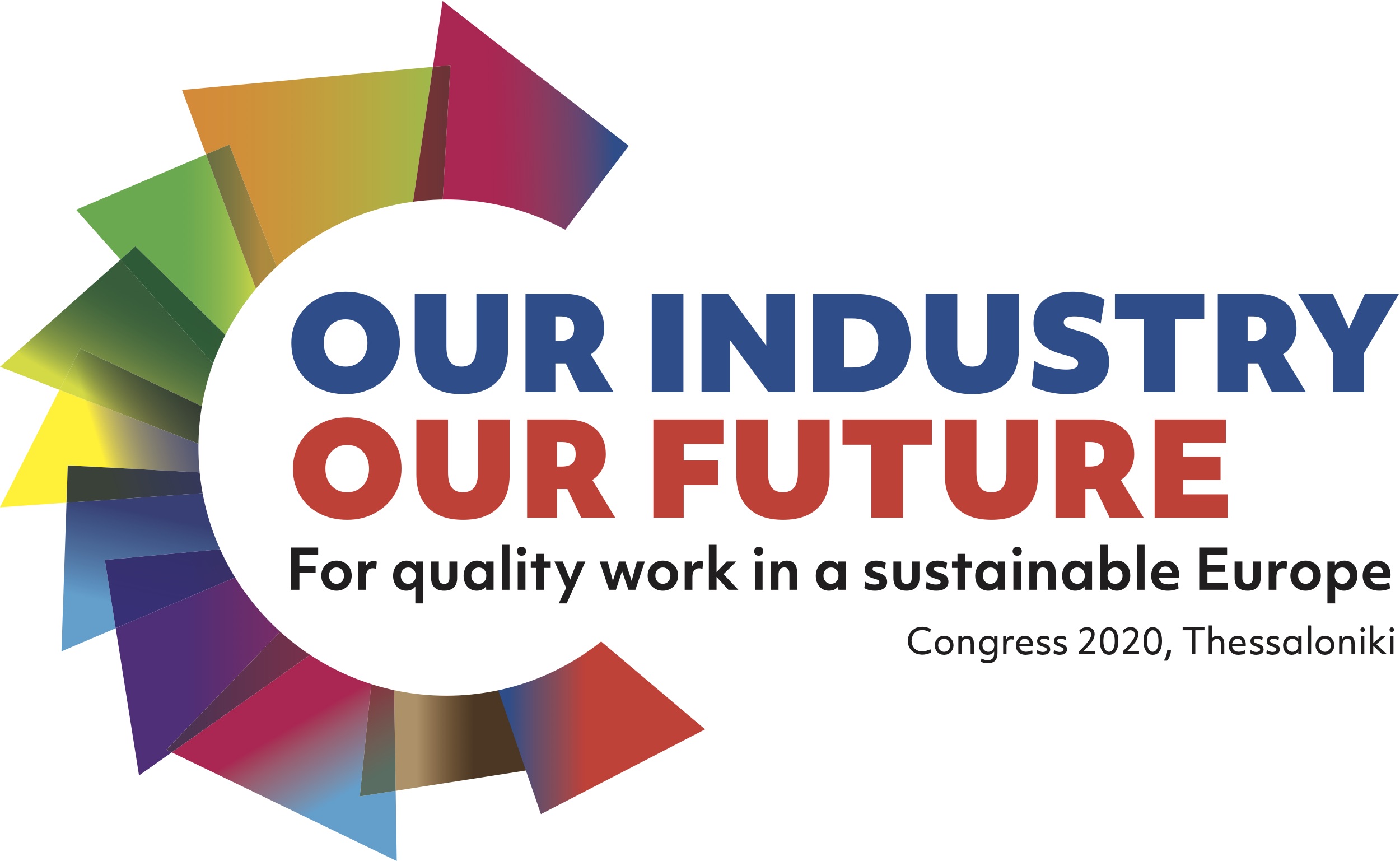 2020 CONGRESS III

26-28 May 2020 - Thessaloniki
Registration & documents








Important dates & deadlines

2020
31 January 2020

Deadline for the affiliated organisation to submit amendments on the Congress documents (Political Resolution, Statutes, Action Plan)
Deadline for the nomination of the elected posts

3-4 March 2020 – RMC Meeting 1 – Brussels

Discussion on documents and recommendations on amendments received

31 March 2020 – Extraordinary Executive Committee (Brussels)

Communication on the nominations to the posts of GS, DGS and P
Communication on the nominations of the members of the Congress Credentials Committee, the Auditing Committee
Final discussion about Congress documents: amendments for which no consensus could be reached
---
Previous Congress - documents
2016
---
2012